I have not really managed to closely follow French Open, but since no one is blogging I thought I will chip in.
Its the diminutive, strong back-handed, Belgian--my personal favorite-- Justine Henin against the unknown commodity in Ivanovic. The key to me again would be Ivanovic's ability to cope with the best backhand in women's tennis. As often is the case, temperament of the younger, more inexperienced player could be the telling point. All in all, it promises to be an interesting contest. My pick?--definitly Justine Henin.
Men's ........aah........it looks like the same old contest- The king of Tennis Vs the crafty, muscular French Open specialist. The Spaniard has had the better of the Fedex on the last two occasions. But more recently, the world no.1 broke Nadal's 81-match unbeaten run on clay court. This does promise to be a cracker. Have to get up early in the morning to watch it :( My pick?--I will be brave this time.......I put my money on the underdog-Nadal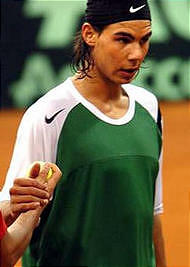 ........but hold on........what if it turns out to be a Davydenko-Djokovic final!!!.......
La liga.......well.......what interesting contest on cards. Both, the galacticos and the catalans are level. The Catalans will be without their playmaker though-- Ronaldinho.......remember his unfortunate red card two weeks back.........
Neither team cannot afford a slip up.........I have a feeling though that Madrid will go on to win back the La Liga this time.........All in all.........an interesting week ahead