It is that time of the year. Feast of football and feast of test match cricket. Boxing day test in MCG has been a long living tradition. (Sehwag's 195 comes to mind immediately). Unfortunately, it turned out to be in a lost cause.
sehwag's 195 at MCG
So the 4th Ashes test could not have been poised better. Going in at 1-1, it promises to be a cracker. Hugely important tests for both teams. I will not really read into the fact the momentum is with the Aussies. In the last Ashes series, there were change of fortunes. In Cardiff in the first
test
, England just manage to draw the test. They, then convincingly won at
Lords
, lost by an innings at
Headingly
and came back to win the final test at
Oval
.
So, both teams have some thinking to do before the test.
1) Do England move
Bell
up the order? This is a move suggested by many. If it does happen, then Trott will move down to number 6. The big question for England would be how Trott responds to the demotion. Does he respond to the situation in the Dravid kind of way? (Kolkata) or Will it affect his confidence? On his debut at Lords, he did score century batting at number 5. Looking at Bell's confidence, his scores, I would definitely move him up to 3.
2) Steven Finn? Looks like he is going to be rested and Bresnan will come in. Bresnan has been in good form. Finn went for over 5 an over in the last test. According to Ian Chappell, he has been made to hit-the-pitch. Rather than pitch the ball up and let it seam/swing. So, the lad has lost confidence.
3) Should they drop Collingwood. I would say no. If he does get dropped then Eoin Morgen will come in for him. I am inclined to sticking with Collingwood, as he is a brilliant slipper.
There is no reason for England to panic. The rest of the line-up looks ok.
Australia?
1) Ponting looks
fine
after his injury scare. So he should play
Down, but not out. Ponting will be back for MCG
2) Australia's bowling Johnson, Siddle, Hilfenhaus, Harris and Steve Smith is a worry. I definitely dont think they will play four quicks in Melbourne. So, who do they drop? Definitely not Johnson and Harris after their 6-fors, not Siddle either (he has been very consistent this series). So, it looks like Hilfenhaus will be dropped. But, he was their most economical bowler and helped Johnson and Harris pick up those wickets by bottling one end up. Dropping Helfenhaus seems to be the easy option, but not necessarily the correct one.
3) Who will be the spinner? Steve Smith did not bowl a ball in the 3rd test at Perth. While Perth is one of the fastest pitches in the world, it does assist the spinners. Vettori's
six-for
against the Aussies in 2001, a period in which their dominance was at a peak, comes to mind. So, since Smith does not have the vote of confidence, and neither does
Beer
. So what will be their bowling line-up? Will they play four quicks? or Play a low-on-confidence spinner?
Their batting looks reasonably settled. So, I expect Hughes, Watson, Ponting, Clarke, Hussey, Haddin to be in the line-up.
Australia have the momentum, but England, I think, have the class. I see them winning at least one of the next two tests to take home the Ashes.
Meanwhile, India take on SA in the second test at Kingsmead, Durban, One of the faster pitches in the country. 14 years ago India got blown away for
100 and 66
and lost by over 300 runs. 10 years on, a much improved performance by the tourists, but yet lost by a
174 runs
.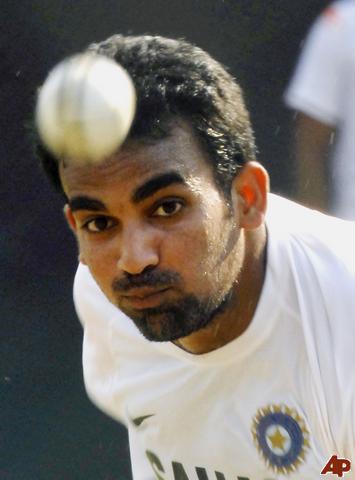 Zak - Spearheading the attack
For India, Zaheer will come in for Unadkat. I would love to see Harbhajan sit out and make way for Ojha. If the Indian think tank is considering Singh's batting skills then definitely is not the right way to go. We struggled to pick 4 wickets in the last test. Picking 20 looks a far way off. Batting, it is obvious that they should have never played Raina in the first place. By doing so,
a) It probably cost us the test. Some support for Sachin in the second innings and who knows what might have happened.
b) If he continues to play tests, Raina the ODI and T20 player will lose confidence, just like he did 4 years ago and with the world cup coming up, this is a move fraught with (double) danger.
Rest of the batting looks fine for me. Pujara in for Raina is a straight and simple swap. Indeed, one that could/should have been avoided by having Pujara play in the first test.
India have their task cut out. I expect our batting to fair much better this time. Bowling is a big worry. We ahve seen them bounce back in the past. So I do think they can bounce back
Arsenal welcome(or do they) Chelsea. This has got to be it for them. If ever there was a time to play Chelsea, this was it. They are low on confidence, short of victories,a perfect time for us to start winning the 'big games'. Fabregas, RVP, Diaby are back. Bendtner will return to the time as a 'father'.
One of the comments on the Dane I read:
Nick has become a father in recent days at least proves he's not shooting blanks off the pitch
Unfortunately, Fab(lap)ianski is back for us. So Wojicech, who was impressive against ManU will go back to the bench.
Excerpts from Pre-Chelsea Wenger's conference:
Q) team's injury status......
A) We cannot complain about the injuries right now. Compared to the recent years.
diaby, RVP, Fab, Bend are back. We play many games in Janurary (FA Cup, Carling, Premiership)
Our home form is going to be decisive (aganst Chelsea, Manu, man city and liverpool) We played these teams away.
Q) Have the current
off the field problems
destabilized chelsea?
A) No, any team can go through what chelsea have.
Q) Are you surprised Lost 5 games and yet we are 2 points off the top?
A) Surprised that we lost 5 games. Home form in the second part is going to be deciding.
Q) Nani says there are only two teams and Arsenal is not going to be one of them.
A) I have managed 1600 games. If Nani knows who is going to win the he must be 1600 times better than me.
Q) Baloteli dint hear of Jack Wilshere. what do you think.
A) Wilshere is going to be a great player. If he keep right attitude he will do great
Q) Is this the best time to play chelsea?
A) They have less confidence than October. To win the game will be down to us. 3 years ago we won big games and dint win small games and did not win the championship.
Q) On Lampard's return.....
A) Player I like but would not necessarily like to see him return against us.
Q) What do you think needs to change to win the 'big' games?
A) Belief, commitment and determination against the big teams.
Q) Can Thomas Vermaelen be back before the end of season?
Should be back by end of Jan.
Pretty much what we expected. Isn't there too much interesting there. It will be much more interesting to hear from him after victory over Chelsea. So we saw what Man Utd did to us. They really stifled us and did not allow us to play. We can expect that from Chelsea too. Expected line-up:
Theo on the run.......But will he play?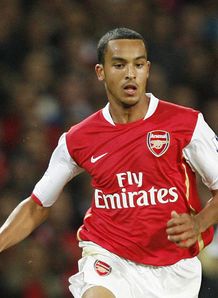 F***ianski
Clichy
Koscienly
Squilacci
Sagna
Song
Wilshere
Fabregas
Nasri
Walcott
Chamakh
After the ManU game it is clear that we need the pace of Walcott up front. I think Wenger might take the punt and play the young England winger on the right. So, RVP, Bendtner and Arshavin wil be on the bench along with Djourou.