The week has gone from bad to worse for the gunners. I was not able to watch the game against Braga. It seems there was a stone-wall penalty not given to us and we had to play with 10 men for last 15 odd minutes as Eboue got injured and we already used our 3 subs. As I said, this week has been a horrible one. But, if you look at it from a different angle, we are in the carling and FA cup (having beaten the likes of Tottenham and Newcastle). We are two points behind the top of EPL. We are one home win away from qualification against a side which has 0 points so far in the group. No
excuses
for yesterdays loss, but things are not as bad as they seem. Ramsey's
return
to the pitch for the first time since Feb is another piece of news to make your week better if you are a gunner's fan.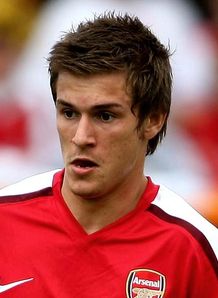 Aaram sey Aaron Ramsey!
Finally, we saw some 'mission domination' in the Ind-NZ test. Looking back at the series, there was too little expectation from NZ and too much from India. People expected us to dominate the kiwis because of our No.1 status and NZ's number eight status and also because of the black caps' capitulation in Bangladesh (they call it 'Banglawash'). With our limited bowling attack, I dont think we can "dominate" an opposition on the same level as the Aussies used to in their golden days. It is our awesome batting line-up, ability to fight in difficult situations (tail-end batting and Dhoni's captaincy) that makes us the number 1 team. Except for the 1st test, 2nd innings, we performed to the expectations. Looking ahead to the tour of South Africa, most part of the team picks itself. Obviously, the major worry for us is the no. 6. I would pick Pujara or Vijay for that spot. They may not be "natural no. 6" batters, but Raina looked totaly out of sorts against the NZ fast bowling attack on docile Indian pitchesh. Very soon Chris Martins and Tim Southees will morph into Steyns and Morkels. And we will be playing on green tops in Centurion/Durban/Cape Town instead of Nagpur/Ahmedabad. I really cant see him turn the corner within 3 weeks. I think too much was being made of Dhoni's form, or the lack of it. SEVEN innings without a fifty!! Thats ridiculous. Here is a list of his scores in the last few innings before this 98:
14,10,30,14,15,76,33,132*
It is not the most consistent, but for someone who bats at no. seven, I dont realy see too much wrong with that. He performs when it is needed.
He came in at 281/5, when India was up against Pakistan's 588 in one of his earlier matches. His
148
saved our asses
The much-valued away series win in England in 2007 would not have been possible without the
76*
at Lords when one wicket seperated England from going one up.
And how about this
92
, when he walked in at 326/6 to push our score to 469 at Mohali.
Most of his failures have come when we have been looking to up the scoring rate.
So, we have:
Sehwag, Gambhir, Dravid, Sachin, Laxman, Pujara/Vijay, Dhoni.
Bowling, is our weakness.
Zaheer has been our best overseas bowler for sometime now. Added bonus, Graeme Smith has been is bunny. The proteas skipper has struggled against
Zak
among the many
left-handers
including Hayden, Lara and Andy Flower. I am assuming he will be back for the tour to SA.
Our second seamer will be Sreesanth. The eccentric Kerela man had a good tour to SA when we went there in 2006. His five-for in
Jo'burg
helped us record a famous win and earned him the MOM. The fact that he has already toured SA will come in handy.
Ishant Sharma has had a roller-coaster ride in international cricket. But, he is on the up again and was instrumental in our win in the third test. The Delhi paceman is close to his best and will be our third choice.
Between Harbhajan and Ojha, I will pick Ojha. I know that the offie was the MOS against the Kiwis, but who is the the better bowler between the two right now??.....the answer is Ojha.