January 3-6, 2010
Pakistan's spectacular loss to Australia
It was the
2nd test in Sydney
. Mohd Asif destroyed Australia's top order as the hosts crumbled for 127. Pakistan replied with 333. They took, what looked like, a match-winning lead of 206 runs. Australians were 257 for 8 in reply. Mohd. Yusuf then put all men on the boundary for a struggling Hussey and let the Aussies back into the game as Australia recovered to 381. Chasing 176, the men in green were rolled over for 139 in the fourth innings. That is why I said, Pakistan's spectacular loss to Australia, not Australia's win over Pakistan!
2-6 February, 2010
Yusuf Pathan's 210 against South Zone. Click here for video
Yusuf Pathan smashed an unbeaten match-winning 210 to secure a record-breaking chase in first-class cricket. In the
Duleep Trophy Final
, West Zone were chasing an improbable 541 for victory. West Zone were 239/3 when the elder of the Pathan brothers strode in. He smashed 19 fours and 10 sixes to complete the record-breaking chase.
27th Feb, 2010
Arsenal's 3-1 wins against Stoke

When Stoke City's Ryan Shawcross rammed into Aaron Ramsey's ankles to give him a double-fracture, many of us feared a repeat of Eduardo-Birmingham episode a couple of years ago. The Gunners came back instead to complete a 3-1 victory of Stoke at the Brittania Stadium. It was a sign of how the young gunners had grown. Come on Arsenal!.
28th Feb, 2010
2nd T20

Australia had blitzed New Zealand in the first T20. The Kiwis needed something special in the second game. Boy did McCullum deliver something special. His 116 off 56 balls set them on the way to huge total, which they eventually won in the super over.
14th May 2010
Australianism

Michael Hussey strode in with Australia at 105/5 in the 13th over. Chasing 192 to win for a place in the T20 World cup final, Hussey smashed six 6's to complete an amazing win. There was, after all, still some
Australianism
left in the current lot.
Sachin Tendulkar
If
Australianism
was back alive,
Sachinism
continued from where it left and kept going.
First man to score 200 in ODI,
Match-winning 214 against Australia in the Bangalore test, and
the 50th test century in the second innings of the first test, which began India's fightback in the series
are three of many
Sachinist
moments for the year 2010.
VVS Laxman
Someone on Cricinfo commented:
"Though Tendulkar is the god, it is Laxman who answers our prayers"
While it is easy to overlook Sachin's contribution sometimes because of the number of times he gets us out of trouble, there is no doubting that Laxman's knocks were timely and came under intense pressure.
His match-winning knocks of:
103 not out against SL, chasing 267 in the fourth innings
73 not out against Australia at Mohali, chasing 216,again in the fourth innings
96 against SA in the recent test at Durban
were all amazing rescue acts.
Many of us get so intrigued by his wristy stroke play, that we forget the steely resolve that this man posses underneath. We all got to see the 'other side' of Laxman when he gave young Ojha a piece of his mind, when the young left-arm spinner was "wandering" during their last wicket partnership.
Keep going VVS!!
Sept 11, 2010
Djokovic's comeback win against Federer
The Serb staved off two match points to complete an amazing comeback in the semi-final of the US Open 2010. He won 5-7, 6-1, 5-7, 6-2, 7-5 against the Swiss Ace. Later in December, in the Davis cup final, he inspired Serbia to a 3-2 win over France.
October 3-14, 2010
Commonwealth Games

Before the games, there were a multitude of concerns including:
likelihood of floods in Delhi due to heavy monsoon rains,
poor living conditions at the Commonwealth Games Village,
delays in construction of the main Games' venues,
possibility of a terrorist attack by militants.
But all this was put to bed as Delhi/India recovered to stage the games in a grand fashion. Not only were the games a huge success, but also this was the best performance by host nation. They finished with 101 medals, second only to Australia. Lord Sebastian Coe, former Olympic Champion and chairman of the 2012 London Olympics Organising Committee, described it as "potentially the moment that could change the course of athletics in Asia, the moment that could inspire thousands of people who'd never even seen an athletics track before to get involved."
It also prompted an article in New York, whose headline was
"A technology called Jugaad"

November 14, 2010
Amazing last day victory by Sebastian Vettel

Going into the
Abu Dhabi Grand Prix
, the 23-yr old German had only an outside chance to win the championship. Going into the final day of the season, Ferrari's Alonso was leading the charts, closely followed by team mate Webber. Vettel's chances of winning the Championship were very slim. As history has it, Alonso finished seventh and Webber eighth. Vettel finished first to win help Red Bull to their first Championship.
Nov 29, 2010
Barcelona's annihilation of Maurinho
With the La Liga increasingly becoming a two-horse race, the El Classico was going a long way to determine the Spanish championship. Earlier in the season, when Real Madrid went for their champions league tie with AC Milan, he churlishly pointed three fingers to the crowd (for three Scudettos). When Barcelona rubbed in five goals on the Real Madrid, the Portugese's face was a sight to see.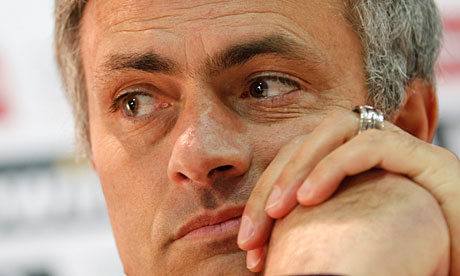 No finger pointing this time!
Dec 27, 2010
Arsenal 3-1 Chelsea

Arsenal's young men were being questioned with their ability to win "Big Games". They answered the critics with a thumping win over Chelsea. Carlo Ancelotti's men were thumped and dumped to a 3-1 loss. Admittedly, the men in Blue were on a bad run of form, but the character and spirit shown by the Gunners was there to be seen. Now, are they ready to take the next step? Come on you Gunners!