Guys......my Arsenal predicitions have come good so far. So you better read this one too. and if you have not read the Arsenal predictions, then go down and read my Arspective before you read this.
NRI. Is it Non-resident Indians? or Non- returning Indians as she said in that movie? Or is it Not Required Indians?
I recently read an article which talked about the latest policy(You guys may be already aware of this policy) adopted by the India's Sports Ministry. From now on, only the Indian passport holders can represent India in international sporting events. My intial reaction to this article was "What the......You mean this rule was not there till now. I mean its not even a 'rule' per se. Its just common sense. Of course, non-Indians cannot represent India." But as it turned out, the reference was made to ABCD's. That is, people with foreign passport but Indian origin. But still, how can a non Indian-passport-holder represent India?
Well, till recently that indeed was the case. And that indeed was one of the reasons, why India did well in some sports at least at the Asian level, if not at the international level. Shikha Oberoi, born in Mumbai and brought up in the US, has had a career-high singles world ranking of 122. She won India the silver meda in the Doha Asian games. With a world- ranking of 210, the US-passported Prakash Amritraj is among the top-ranked Indians. Leave him out, and you come to the "citizens" of India, then you are looking at Rohan Bopanna with a world ranking 333. Among women, leave Sunita Rao(Us citizen) ranked at 197, and then you are looking at Isha Lakshmi at 362. Tennis, it seems, is the hardest-hit victim. It faces the hardly enviable task of either dropping these players or convince them to change their passports. Shikha Oberoi, for one, has already stated that she will let go the American citizenship and dig into her old locker to revalidate the Indian passport.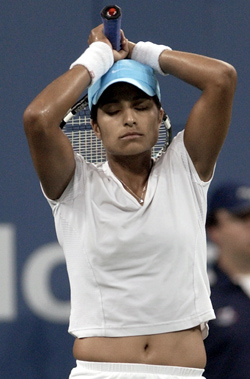 OK STOP. Stop staring at the picture above and continue reading the post.
It could take India a long time to recover from and start performing even at the Asian level. The impact this policy may have might be so deep/long that it could
outweigh the long-term gains of this policy. Critics also say that this policy could be unfair to the foreign-born Indian kids, depreiving them of the opportunity to represent their homeland because of a slight change in a technical document(the passport I mean....ok slight change in a technical book if you like it that way). In this era of ever-increasing globalization, has the Indian government erred by inflating the value of a passport? If Gary Kirsten could be our coach, Gregory King our trainer, whats wrong if we allow the ABCDs to represent India?
Whats wrong? Whats wrong is that the local players will always remain in the shadow of the ABCD's. With lesser training facilities the local talent will always fail to compete with their ABCD(ABCD = American Born Confused Desi.....for those who are condering what the f... it means. Its a general term used for someone with a foreign passport but with an India origin) counterparts. And hence, the abyssmal state of Indian sports, the poor facilities will remain unexposed for ever. Perhaps, the grassroots will be cleaned up. And rather than waiting for the next ABCD kid delivered, the Indian government may improve the facilties to develop the local talent. Let HOPE SO!!
One more question that came to my mind was. " Had Prakash Amritraj been good enough to represent the USA, would he even consider playing for India?" Chances are that he would not. So, should we allow a US reject to represent our country. Well, the answer I think, unfortunately is, YES if he is better than our best.
Vishy(Grand master Vishwanathan Anand) suggested a solution to solve the problem at hand.
His vision:
1) Long-term: No non-citizen should represent India.
2) Short term: Donot enforce the policy immediately. Announce the policy and tell everyone that it will be enforced in a year.
This will give the various federations time to think, time to talk to the players. It would also give the ABCDs time to think if they would want to give-up their foreing passport to represent India. I totally aggree with "Namma Tamilian".
Come-on Arsenal !!